Deluxe Cat Boarding
Price List - $25 / Night (short stay)
$25 / Night (with every 7th $25 going on as a credit for use at time of admission (only)- for treats or anything else in the petshop -like leads, collars, cat towers & scratch posts, cat litter or food (exceptions are worming/flea/tick products). This helps you spoil your cat!
Example- 28day stay gives you $100 to spend on your puddy cat!
The $25 credits every 7 days stops over the Xmas & New Year period
Xmas/NYE has a 10 day Minimum stay/pay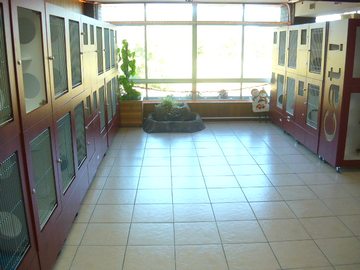 Conditions of entry - $50 non refundable deposit is required on book-in ($100 deposit for Christmas & New Year Time). This is subtracted from your total bill on entry. Full payment is required on admission. Please be sure of your dates on book-in. Vet quality worming & flea control are required to be undertaken on drop off or within the last 2 weeks (or we can worm ($6.95) and flea treat ($15) on entry. Cats must have been vaccinated with at least a F3 vaccination within the last 12 months to enter. Our 3- component vaccine is $20 with a Vet Health Check of $69.95 but get two discounts on this- if on time (their due month) and a face book friend get two discounts of $10 each (see Specials Page for details).
Located on the second floor of the veterinary hospital is our Deluxe Cat Boarding Facility, a tranquil dog-free zone where our guest cats can monitor the activities below, play or sleep the day away. Pictures here are of the Central Coast Vet Centre North Wyong. Pictures of our North Gosford/Wyoming CCVetCentre can be found at www.petimagingcentre.com.au , where the same deluxe cattery is set up above a large spiral staircase and arch windows (above reception).
The waterfall and fish pond fill the room with calming sounds of fresh running water where a maze of linked Cat Condos, Deluxe Town Houses & Play Centres can open up a world of exploration for the inquisitive feline. Whether shy & timid, active or little prowlers, we are sure to win them over.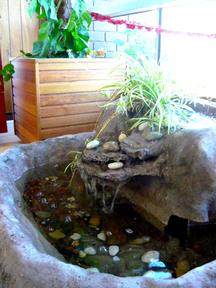 Each cat lodger has their own individual Cat Condo apartment which includes a play-room, private bedroom and separate toiletry room, which can then be linked sideways, even up or down, to as many extra playrooms and condos as we choose.
The Deluxe Town house (or PlayTower) has the Cat Condo attached to another playroom next door, and another above. A further Cat Condo can be added for twin share, and additional condos up to 4 can be added for multiple cats from the same household!
Play Centres are large attached activity areas. Up to 4 cats can have their condos open straight on to these for sessions of play.
We provide a climate controlled area, premium Royal Canin (Veterinary Exclusive Version) cat food, freezer, fridge & microwave facilities for their own home made meals.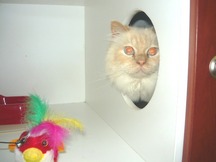 Natural light filters from skylights & the large display windows with views across the golf course. Pets are monitored daily by our vet nursing staff.
This is a true cat friendly environment. Should any attention be required, the cattery lies above our state-of-the-art hospital with experienced veterinarians. This allows you to relax and enjoy your holiday knowing they are holidaying too.